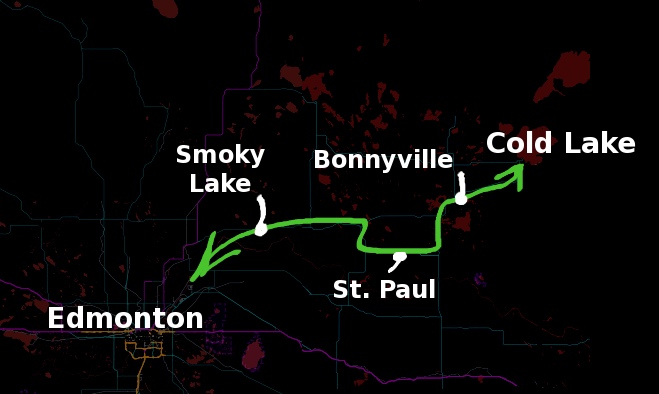 Cold Lake – Bonnyville – St. Paul – Smoky Lake – Edmonton
$100 per person, one way. Prices subject to change. There is no need to call ahead to reserve seating. Prices vary for intermediate stops — see the Fare Calculator. Schedule may vary due to passengers and road conditions.
Schedule – 7 days a week
Heading North to Cold Lake
Departing Continental Inn, Edmonton, at 9:45 a.m. and arrives at the Cold Lake 7-11 Convenience Store at 2:10 p.m.
Heading South to Edmonton
Departing 7-11 Convenience Store, Cold Lake, at 2:30 pm and arrives at the Continental Inn in Edmonton at 7:00 pm
Locations
| Edmonton location: Continental Inn | Cold Lake location: 7-11 Convenience Store |
| --- | --- |
| View Continental Inn in a larger map | View 7-Eleven in a larger map |