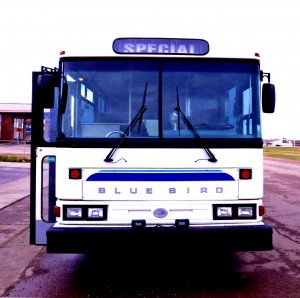 Northern Express Bus Lines is owned and operated by a High Level family. We've been in operation since 2005, starting out with 14-passenger vans, and we've been adding to our fleet ever since. Sometimes, more people show up at the departure point than we were expecting, so we put another bus on the road — We never leave anyone behind.
Our drivers are friendly, safety-minded and fully qualified. Our stops are casual — usually 5-10 minutes — and when everyone's back on, we go!
We enjoy going above and beyond for our customers. As a result, we've shipped some strange things over the years — from wood-and-sinew snowshoes to beaver pelts.
Contact Us
| | |
| --- | --- |
| High Level | 780-926-0808 |
| Grande Prairie | 780-897-0808 |
| Edmonton | 780-983-8225 |
| Fax | 780-926-8824 (New as of Dec 2012) |
About Our Buses
The workhorse of our fleet is our modern 41-passenger coaches. They are very comfortable, and they're equipped with washrooms.
For smaller groups, we run with 14-passenger vans. When we need to, we can pull a trailer for cargo and luggage.
---