Posted June 11, 2019: Highway 35  between Manning and High Level is now open with RCMP escort on a portion of the route. Major delays can be expected. Connecting service to Peace River, Grande Prairie and Edmonton routes may encounter delays as a result. Please call 780 926-0808 for the most up to date information
Effective May 25, 2019 service on the route between Grande Prairie and Edmonton will be canceled. We would like to thank our customers for your support and apologize for any inconvenience this may cause. 
All of our other route schedules will remain the same.
Effective May 1, 2019 our pick up/ drop off location in St. Paul will be 1 block east of the Coop (the old PeaveyMart location). This will be temporary until the renovations are completed at the Coop.
Offering passenger service between Edmonton, Slave Lake, Peace River, Grande Prairie, and High Level, and between Edmonton and Cold Lake – ALL FARES ARE NON-REFUNDABLE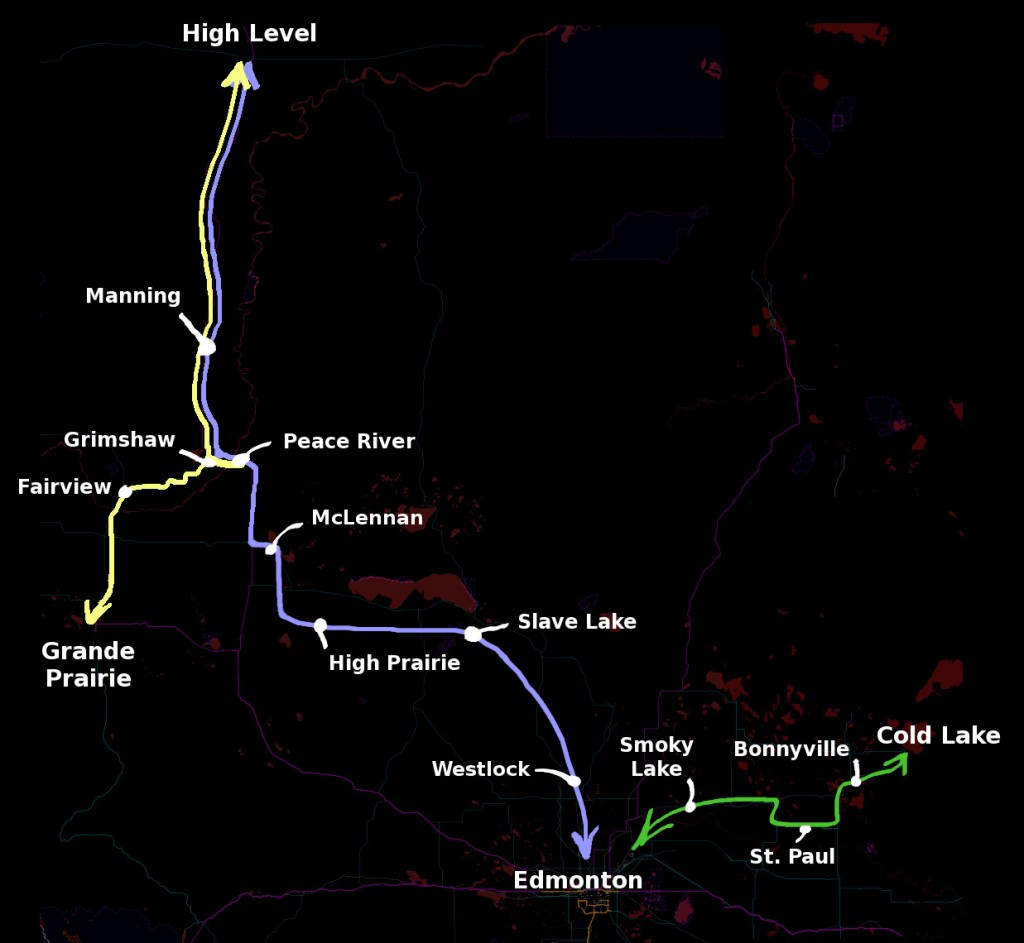 1. High Level, Peace River, High Prairie, Slave Lake, Edmonton
Departs High Level at 10:00 am and arrives in Edmonton at 8:30 pm
Departs Edmonton at 10:30 am and arrives in High Level at 8:30 pm
Fare: $190 one way     Click here for details
2. High Level, Peace River, Grande Prairie
Departs High Level at 10:00 am and arrives in Grande Prairie at 3:15 pm
Departs Grande Prairie at 3:25 pm and arrives in High Level at 8:30 pm
Fare: $130 one way     Click here for details
3. Peace River, Grande Prairie
Departs Peace River at 12:30 pm and arrives in Grande Prairie at 3:15 pm
Departs Grande Prairie at 3:25 pm and arrives in Peace River at 5:30 pm
Fare: $90 one way     Click here for details
4. Cold Lake, Bonnyville, St. Paul, Smoky Lake, Edmonton
Departs Edmonton at 9:45 am and arrives in Cold Lake at 2:10 pm
Departs Cold Lake at 2:30 pm and arrives in Edmonton at 7:00 pm
Fare: $110 one way     Click here for details
5. Charter and Freight Services
Click here for details