SERVICE ALERT: 
SUSPENSION OF OPERATIONS. As a result of the COVID-19 Pandemic, Northern Express Bus Line Ltd will be suspending operations on ALL ROUTES as of March 30, 2020 until further notice. The Health and Safety of our Customers, the Citizens of the Towns and Cities we serve and our Staff is paramount during this very difficult time. We apologize for any inconvenience this may cause. Please stay safe.
COVID-19 Update: Northern Express Bus Line is continuously monitoring the COVID-19 Coronavirus situation. We have taken the following actions:
Prior to each trip buses are receiving additional disinfecting cleaning  beyond our regular cleaning program, with extra attention being taken on washrooms, overhead cabin latches, seats, armrests and door way handles

 Operators are supplied with gloves, disinfectant wipes or spray and paper towel for in trip attention as required.
Offering passenger service between Edmonton, Slave Lake, Peace River, Grande Prairie, and High Level, and between Edmonton and Cold Lake – ALL FARES ARE NON-REFUNDABLE. 
ALL RESERVED SEATS, ON CHARGE ACCOUNTS, WILL BE INVOICED AS ORDERED UNLESS CANCELLED PRIOR TO SCHEDULED DEPARTURE TIME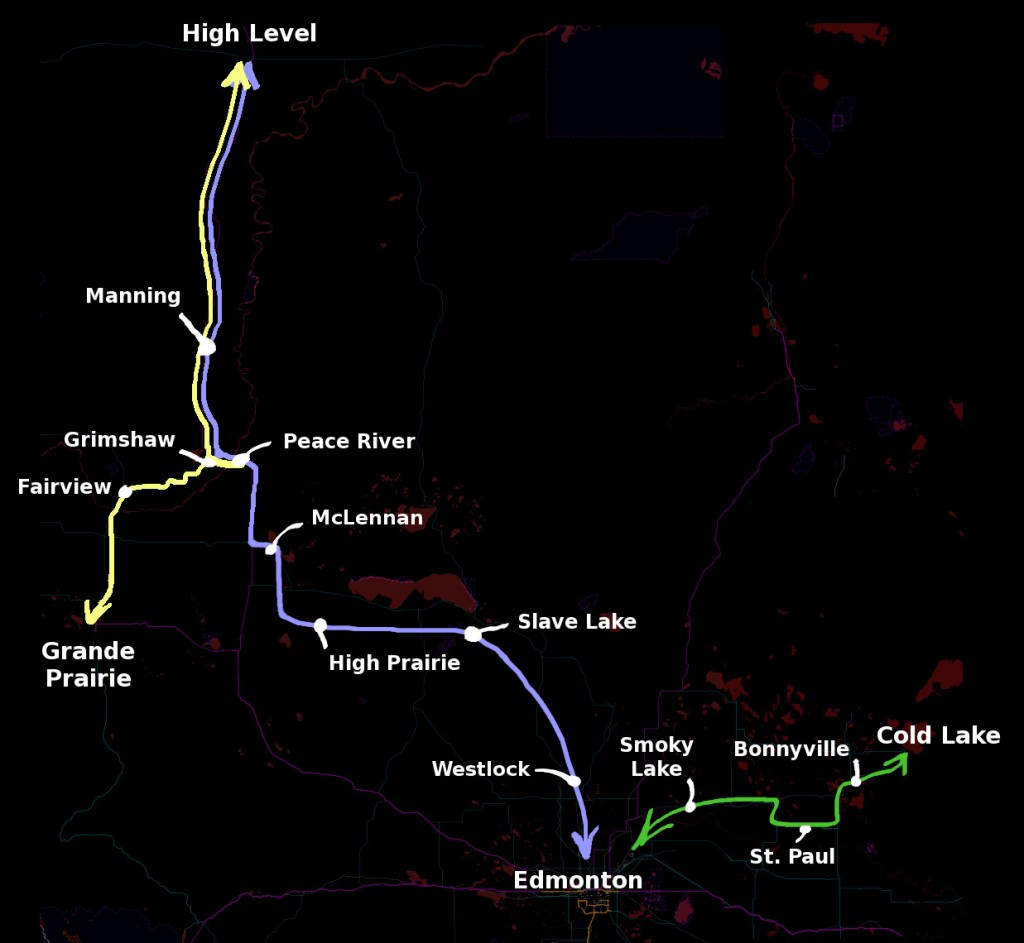 1. High Level, Peace River, High Prairie, Slave Lake, Edmonton
Departs High Level at 10:00 am and arrives in Edmonton at 8:30 pm
Departs Edmonton at 10:30 am and arrives in High Level at 8:30 pm
Fare: $190 one way     Click here for details
2. High Level, Peace River, Grande Prairie
Departs High Level at 10:00 am and arrives in Grande Prairie at 3:15 pm
Departs Grande Prairie at 3:25 pm and arrives in High Level at 8:30 pm
Fare: $130 one way     Click here for details
3. Peace River, Grande Prairie
Departs Peace River at 12:30 pm and arrives in Grande Prairie at 3:15 pm
Departs Grande Prairie at 3:25 pm and arrives in Peace River at 5:30 pm
Fare: $90 one way     Click here for details
4. Cold Lake, Bonnyville, St. Paul, Smoky Lake, Edmonton
Departs Edmonton at 9:45 am and arrives in Cold Lake at 2:10 pm
Departs Cold Lake at 2:30 pm and arrives in Edmonton at 7:00 pm
Fare: $110 one way     Click here for details
5. Charter and Freight Services
Click here for details