SERVICE ALERT  FEBRUARY 6, 2019
Due to unforeseen circumstances the Edmonton to Grande Prairie and return Route has been cancelled for today February 6, 2019. Regular Scheduled Service will resume tomorrow. Please accept our apologies for any inconvenience this may cause.
Effective October 15, 2018 our Pickup / Drop off location for Grande Prairie is now the Grande Prairie Travel Stop  (Petro Canada / A&W) Highway 43 West 11925 – 101 ave Grande Prairie. 
Effective November 4, 2018  Northern Express' Route from EDMONTON to GRANDE PRAIRIE + RETURN will now be Sunday through Friday.(Connecting service to Rycroft, Fairview and North Sunday, Tuesday, Wednesday & Friday) Also Credit and Debit card payment now available with the driver.  CLICK THIS LINK
Offering passenger service between Edmonton, Slave Lake, Peace River, Grande Prairie, and High Level, and between Edmonton and Cold Lake – ALL FARES ARE NON-REFUNDABLE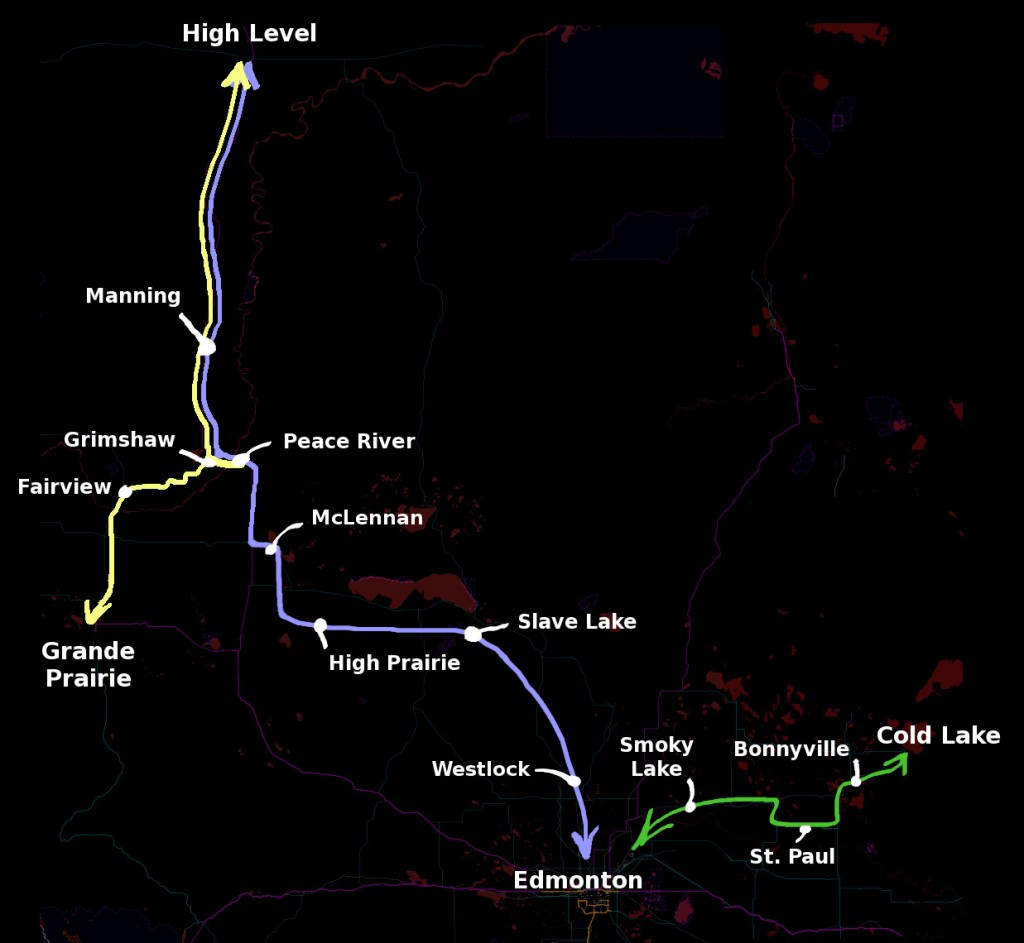 1. High Level, Peace River, High Prairie, Slave Lake, Edmonton
Departs High Level at 10:00 am and arrives in Edmonton at 8:30 pm
Departs Edmonton at 10:30 am and arrives in High Level at 8:30 pm
Fare: $190 one way     Click here for details
2. High Level, Peace River, Grande Prairie
Departs High Level at 10:00 am and arrives in Grande Prairie at 3:15 pm
Departs Grande Prairie at 3:25 pm and arrives in High Level at 8:30 pm
Fare: $130 one way     Click here for details
3. Peace River, Grande Prairie
Departs Peace River at 12:30 pm and arrives in Grande Prairie at 3:15 pm
Departs Grande Prairie at 3:25 pm and arrives in Peace River at 5:30 pm
Fare: $90 one way     Click here for details
4. Cold Lake, Bonnyville, St. Paul, Smoky Lake, Edmonton
Departs Edmonton at 9:45 am and arrives in Cold Lake at 2:10 pm
Departs Cold Lake at 2:30 pm and arrives in Edmonton at 7:00 pm
Fare: $110 one way     Click here for details
5. Edmonton, Fox Creek, Whitecourt, Valleyview, Grande Prairie
Departs Edmonton at 9:15 am and arrives in Grande Prairie at 2:45 pm
Departs Grande Prairie at 3:15 pm and arrives in Edmonton at 8:45 pm
Fare: $100 one way     Click here for details
6. Charter and Freight Services
Click here for details